Wednesday, February 20, 2013
Out on the Meme Streets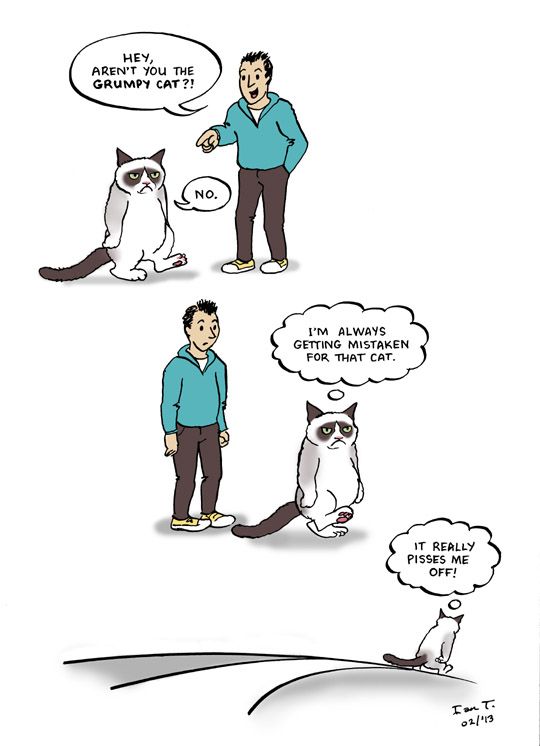 Labels: Cartoons, Miscellaneous comic pieces
Saturday, January 26, 2013
A new Australian flag
If Australia really needs a new flag, then I reckon just go with a map of Australia itself, maybe yellow against a blue background. Not many countries could actually use their geography this way, and it would be as distinctive as Canada's iconic maple-leaf flag.

Thursday, October 25, 2012
Sky for Illustration Friday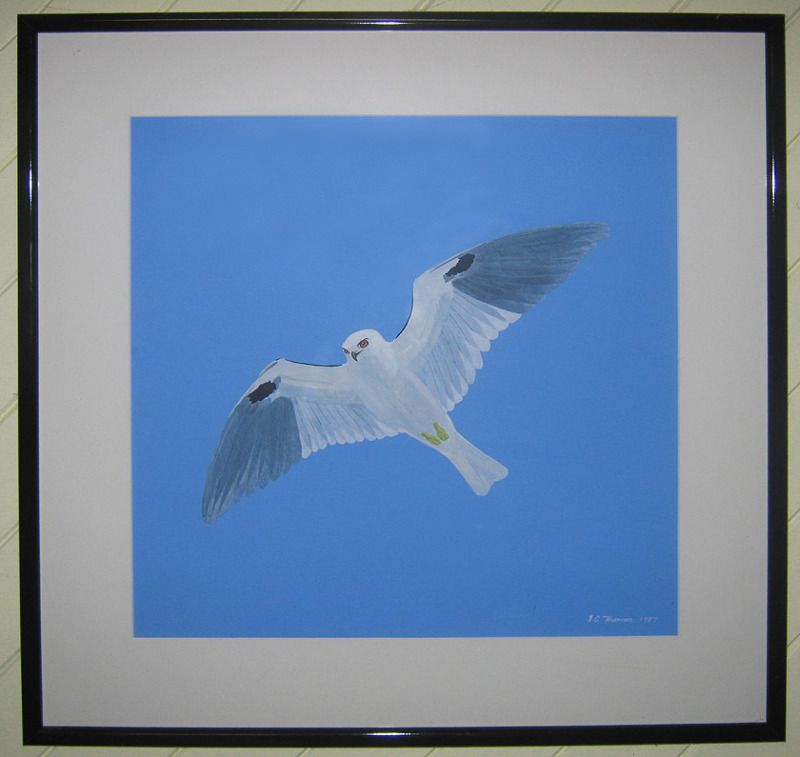 This old painting of mine was my first thought when the topic of "Sky" came up for
Illustration Friday
.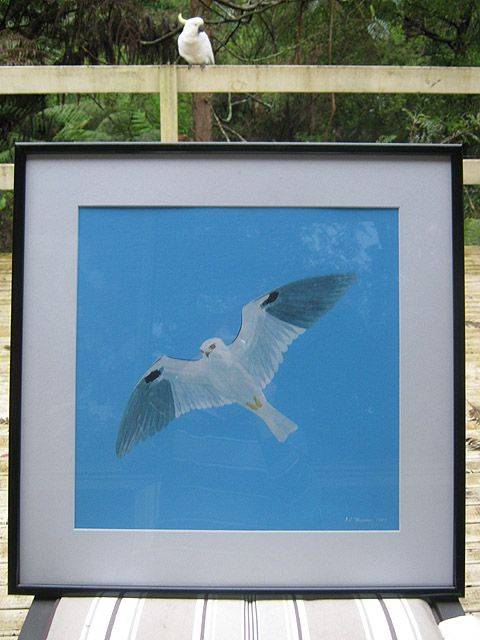 This was during my painting period, something I plan to come back to eventually. The black-shouldered kite was a familiar sight, hovering in the late afternoon sky over the backblocks of Aspendale, where we were living then. I had an absolute concept of how I wanted this to look, with the shoulder bars working as an outline against the sky. The framing was part of how I conceived it should look.
Originally, I planned to paint in clouds in a linear style, but the kite looked so good against a plain background that I left it this way. What surprised me was how brown the white paint appeared when applied to blue underpainting. The only solution was to add blue to the white paint before applying it, although I made the wings using a series of transparent washes, one feather at a time.
The main reason I don't paint more is that I don't have enough spare time during daylight, which it needs to work right. The picture here isn't very good, as it was taken with a flash (which I've left in on the frame), but here's an even worse attempt, taken outside on the deck tonight. I have no idea how to photograph my paintings, which is why you don't see many of them here.
Labels: Australian wildlife, Painting
Friday, October 12, 2012
Coelacanth in Going Down Swinging 33
The stellar new issue of
Going Down Swinging
is available now, featuring sixty contributors - of prose, poetry, art (plus music and spoken word works on the CD included) - so much to enjoy it's a little overwhelming! It's also issue number 33, which is a remarkable achievement in itself.
Lurking inside you'll find "Coelacanth," a poem/comic that I'm particularly proud of, as I think it makes good use of the form. I've done a few poem/comics now, but they've tended mostly to be illustrated stories, rather than images and art working to weave complementary, sometimes even contradictory, threads into a cohesive whole.
When I drew this I was feeling at a loose end, and went to my lyrics book searching for something that I could possibly illustrate as a comic (this one hadn't been set to music, and still hasn't). The best tales want to tell themselves, and this one emerged rapidly from the creative darkness.
There's so much to discover in GDS #33 - for me, so many favourites, old and new. You can find it to purchase
here
.
Labels: Miscellaneous comic pieces
Saturday, August 11, 2012
Wuf in Hush - Funny Aminals #3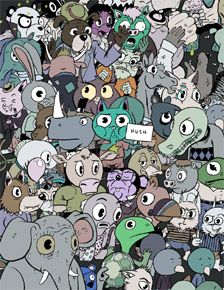 The new big, anthro comic
Hush
(issue #3 in the
Funny Aminals
series), edited by Bryan Stone and Jeff Lok, is full of wonderful, surreal, completely wordless animal comics. My one pager featuring Wuf can be found tailgunning right at the back!
It's available
here
.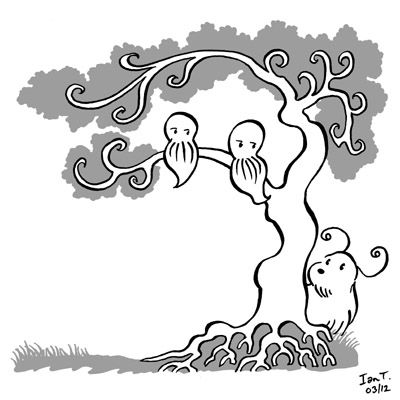 I'm increasingly drawn to this form of storytelling in comics, maybe partly because I'm tired of drawing borders and lettering word balloons, but also because there's something about this "silence" that lends itself to poignancy and strong visual characterisation.
Labels: Comic anthologies, Miscellaneous comic pieces
Wednesday, August 01, 2012
SORTED! Comics offer
The good Lissanne Oliver of
SORTED!
Organising & Decluttering has a
special offer
on printed copies of all six SORTED! comics for one week only. Check out the offer, get the code, and go
here
to order - no comic hoard is complete without them!
Labels: Australian comics, Miscellaneous comic pieces
Sunday, July 15, 2012
Skywise for Elfquest Fan Friday
This picture was drawn and coloured this week for the first ever Elfquest Fan Friday challenge at
ElfQuest® the official page
on Facebook. I don't normally do fan art, but when the subject was announced as Skywise, my favourite character from my favourite comic... ever - I
had
to do that! Everyone's got their price :)
First, I drew a black and white line drawing on paper and sent that in to the group, but later in the week I decided to colour it (in Photoshop, as I never could afford Copic markers).
My aim was to get a strong composition, foreshortened from above, showing a young Skywise and his wolf, Starjumper, in as close to authentic
Elfquest
style as I could manage. I decided to have Starjumper looking at Skywise, and his ears being back was a deliberate decision. Originally, I was going to render Starjumper's fur in black lines, but I think this works better.
Drawing these characters came very easily to me, possibly partly because I first drew them when I was young. My first encounter with
Elfquest
was via the original release of the first two issues, bought off the shelf at Space Age Books in Melbourne in the late '70s. Wow, that was a while ago.
Labels: Elfquest, Fanart, Sketchbook