Sunday, June 18, 2006
The Go-Betweens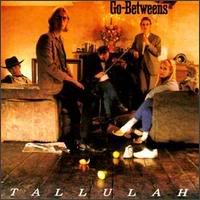 Hopefully, you don't need me to tell you what an important and influential band
The Go-Betweens
were, particularly at their creative height in the late '80s. It's a great pity commercial radio studiously ignored them (with the possible exception of
The Streets of Your Town
). While my own band of the time wasn't personally influenced, we definitely related to the mixed gender, songwriter focused approach they so successfully employed. Sadly, the recent passing of Grant McLennan happened at a time when the central McLennan/Forster duo fully emerged again with a strong lineup and stellar material (I admit, I had misgivings about the comeback).
Having found myself watching
Rage
on the ABC on Saturday night, I was pleasantly surprised to encounter a Go-Betweens/Grant McLennan retrospective (See:
Playlist
). Earlier, I'd been trying to explain to J about how violin could be well integrated into a band sound, and no-one ever did it better than Amanda Brown, during her time in the Go-Betweens (not to mention that oboe part on
Bye Bye Pride
). Included in the show were a bunch of clips from
Rock Arena
which really displayed the instrumental interplay of the Go-Betweens in detail.
For anyone interested in band relationships, dynamics and breakups, David Nichols' book,
The Go-Betweens
is highly recommended (you can get my own spin on such things in my comic series
Riffin' to Oblivion
:)). A nice footnote to the Nichols book might be
Dive for Your Memory
, in the
Sydney Morning Herald
, which pays tribute to McLennan from many of those who knew him best, including Amanda Brown, Go-Betweens drummer Lindy Morrison*, Paul Kelly and Steve Kilbey.
Apparently, EMI has plans to reissue the Go-Betweens back catalogue, so I really hope they'll do a DVD of the Rock Arena appearance soon as well. Hopefully the new remasters will restore the original covers (the swirly generic numbered covers of the last reissues were hardly a selling point). While
Cattle & Cane
with its dexterous timing (in sevenths) and bittersweet lyrics is an undisputed Australian classic, there's a wealth of fine material to discover. For a far more informative Blog entry, try
here
.
*
Sidenote: Following the breakup, Brown and Morrison produced two CDs as Cleopatra Wong, and Brown recently released the Incognita soundtrack CD.
Labels: music
Comments:
Hi Ian
I made a post on Pulp Faction just after I heard about McLennan's untimely death which struggled to articulate how much the GOB's music had been part of my life in the 80's (and in someways still is)but not sure how successful it was.
I miss those days keenly.
Kicking myself for not tuning into Rage and re-seeing all those clips.
You might be interested in this obscure fact: Dave Nichols was a two-time contributor to FOX COMICS, issues 11 and 15. Falling over his GOBs book, at the time of its release, I was astounded at the identity of the author.
cheers
David Bird
Thanks, David, I found your PF post - it's sobering to be getting to a time in life where this can happen unexpectedly to almost anyone :(.
I hadn't realized the David Nichols connection (I don't think I have those
Fox
issues. The most recent thing I've seen his name mentioned for was a comic anthology called
Nice
, from 1998, so it looks like he's still working. There are two versions of the
Go-Betweens
book, with the more recent update covering the reunion version - I've only read the old one, so I might have to track this down.
Post a Comment