Friday, April 24, 2009
The Last Leadbeater's Possum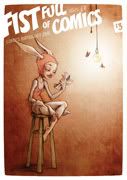 The second issue of
Fist Full of Comics
has just been released and it's evolving strongly, carrying the flag for Australia's independent comics anthology tradition.
As readers here will know, I've been watching the diminishing fortunes of Leadbeater's possum (mostly due to logging) for some time, and the devastating Marysville fire motivated me to produce a comics piece about the last Leadbeater's possum.
My aim was to create a flowing piece that reflected the feelings and disorientation of a fire survivor, without too much anthropomorphism. The comic page that resulted doesn't have any frames, but hopefully just draws the eye across it. The artwork was all completed in one day on 18th March. It was produced in an organic way using a lot of brushwork with some pen inking for the stark blacks, along with some pencil rubbing for the contrasting muted grey areas.
The status of Leadbeater's possum remains uncertain, though thankfully a few individuals have been found since I drew this piece. The IUCN is unlikely to upgrade its status for a while, though there can be little doubt that it should now be "Critically Endangered."
On
Fist Full of Comics
itself - I really enjoyed this eclectic issue, which is packed full of fine short pieces from a surprising range of Australian comic creators - nice to see so many of my favourites in there! I particularly like that the middle pages appear to have become a continuing spot for a poem/comic - in this case a beautiful moody piece by Catherine Brittle and Loren Morris. Only $3 - buy it now!
Labels: Australian comics, Australian wildlife, Comic anthologies, Fist Full of Comics, Leadbeater's possum
Comments:
I love the blog posts and illustrations about endangered wildlife.
I wanted to take a moment to thank you for the email. I was in a really bad place a couple of weeks ago. Though I take care of myself, I have bipolar disorder and sometimes the extremes
will
make themselves felt despite my efforts. I'm back on track for now. Thank-you so very much for caring!
Post a Comment