Wednesday, July 27, 2005
Tranquility for Illustration Friday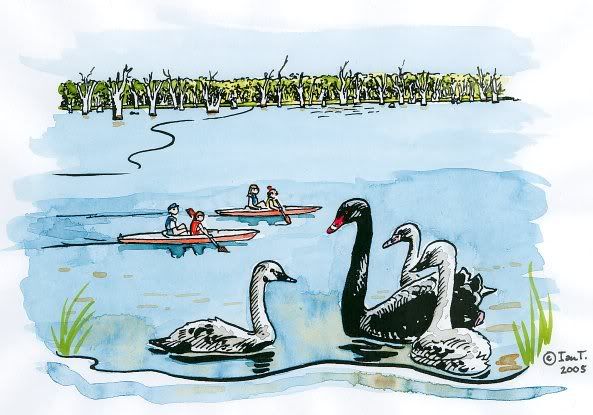 This is a rough watercolour over ink. The picture is actually part of a one page comic I did for the upcoming
Cardigan Comics
romance anthology,
Tango
#6. The theme for that book is "Love and Sex," so naturally I did a story about swans :).
The setting is Bundalong, on Lake Mulwala, which is up off the Murray River (the Northern border of Victoria). The Murray is back behind those trees and there are channels between the Lake and the Murray down this end. There's plenty of wildlife, with platypuses and freshwater shrimp (they nibble your toes) in the water, and lots of birdlife of all kinds - kingfishers, pelicans, rainbow bee-eaters, many different parrots, etc.
When I considered "Tranquility" this is what came into my head - the kayaks slowly and silently gliding across the water in the beautiful silence. Of course, the place gets full of morons on jetskis in the tourist season!
Comments:
Ian - I really love the ink and watercolor combination, and your use of line is so eloquent - a little goes a long way! Wonderful swans...they remind me of a time long ago when I lived on a boat on a river...every evening several dozen swans would come around for their crackers (I was the swan lady who fed them)...I learned then that they have the most insistent voices, not at all in keeping with their
tranquil
appearance! Well done!
I'm enjoying this Illustration Friday thing...it's such a treat to see how other people interpret concepts and what techniques and media they use.
Carla
Post a Comment