Monday, March 27, 2006
Monster for Illustration Friday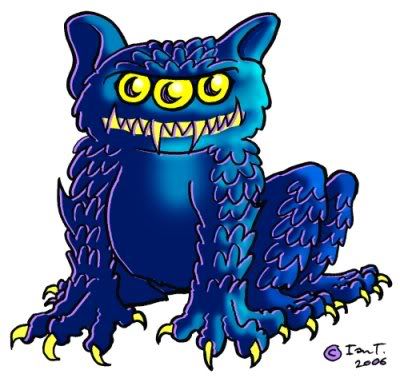 This isn't a generic three-eyed monster. It's a cartoony portrayal of my impression of an Ezwal, from AE Van Vogt's scifi novel,
The War Against the Rull
. I originally read the first part of this book in a compilation of stories from
Astounding
science-fiction magazine (where Jamieson, the human hero is stranded with an ezwal on a strange planet). The compiled book collects together five parts, but I prefer the original ending to the first part, where the Ezwal gets the last line.
I made a big cardboard Ezwal (and lots of other stuff) for a public Library display many years ago. That one was a lot more figured out, with six legs that were an anatomical compromise between front and back legs, etc. This one is an extreme quickie - about 5 minutes to draw, then very quick Photoshop with loads of mistakes (I'm working on a RNRFs episode and took a break to do this). I wasn't going to post it, but oh well...
Originally, for this subject I thought about drawing some traditional big beast that preys on people, along with a commentary about David Quammen's fascinating book,
The Monster of God
. The book deals with the few remaining big predators and how they barely manage to survive, in perilous co-existence with humanity.
In either case the "Monster" is a large scary beast, but only monstrous by perception.
Labels: Illustration Friday, science fiction
Comments:
This is a great rendering of a really scary looking beast! Looks great to me Ian! Sorry I've missed out on commenting on your stuff over the last couple of weeks - I enjoy your posts thoroughly!
Post a Comment