Tuesday, October 31, 2006
Maurice Sendak Exhibition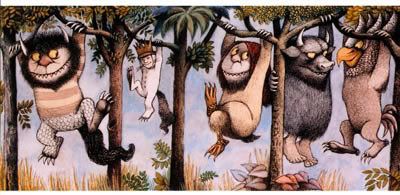 On Sunday, we went to the
Where The Wild Things Are: Maurice Sendak In His Own Words and Pictures
exhibition, at the Jewish Museum in St. Kilda. This exhibition was in its last day (it ran since July), so we had left it pretty late :).
While it was a fine retrospective, I must admit to being a bit disappointed by the lack of finished original artwork. In fairness, a number of pieces had been removed from show, so these may have been among them, and also this wasn't really the expressed intention of the exhibition:
"An exhibition for people of all ages, a hands-on interaction with Sendak's stories and characters. Dress up like a Wild Thing, dance in the wild forest, cook in the Night Kitchen, read on Rosie's stoop, slide into a bowl of chicken soup, and create your own masterpieces while listening to classical music. The "voice" of the exhibition is Sendak himself and focuses on his lifework through the lens of his Jewish heritage."
The Maurice Sendak exhibition was
"organised by The Breman Museum, Atlanta, GA. Many of the images in this exhibition are facsimiles taken from the original art in the Maurice Sendak Archive housed at the Rosenbach Museum and Library, Philadelphia, PA."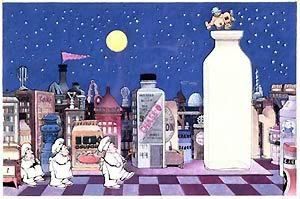 The activities and displayed artwork were well organised, and there were many original pages of writing and some original sketches from notebooks in the cases. My major frustration was the size of the reproductions, which I felt misinformed viewers about the artist's working methods. These high quality facsimiles included complete layouts of pages, displaying the blue pencil line borders, black inkwork and even the pasted up type, but at a smaller size than the original. Most of the reproductions of finished illustrations were at the same, or a smaller size, than in the books themselves. I would have liked the method of watercolour and acetate overlay on
Night Kitchen
made more clear, but was overjoyed to see that Winsor McCay's
Little Nemo in Slumberland
was displayed alongside, with clear recognition of the tribute Sendak was paying in his classic book.
In terms of the work covered, the range went from Sendak's beginnings (and various continuing inspirations, both thematically and artistically), his work as an illustrator for other writers, his own first work (
Where the Wild Things Are
, which grew from
Where the Wild Horses
are) and many brilliant books, his illustration of classic works, his work design work for film, theatre and television, and the adaptations of Sendak's own work in various forms. The use of multimedia (particularly interviews and films such as
The Sign on Rosie's Door
, with music by Carole King) was well integrated. There was some focus on the fascinating theatrical background of
Brundibar
, also the final book Sendak illustrated.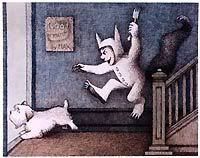 Some of the emphasis was different than I might have expected, with the first two parts of Sendak's classic trilogy,
Wild Things
and
In the Night Kitchen
, well represented, but
Outside Over There
largely passed over for display in favour of the illustrated version of the "found" Grimm story,
Dear Mili
.
Notably missing for me was Sendak's own
Higglety Pigglety Pop! Or There Must Be More to Life
, a tribute to Jennie, his Sealyham terrier. Of Sendak's work for other writers, some of my favourites that didn't appear at all were Charlotte Zolotow's
Mr. Rabbit and the Lovely Present
, Sesyle Joslin's
What Do You Say, Dear?
and
What Do You Do, Dear?
and Doris Orgel's
Rosie's Room
. Else Holme Minarik's
Little Bear
books and Sendak's inspired
Hector Protector
were at least in the stack of books there for reading. All are highly recommended for reading to your kids! I really should put some more pictures...
All this is nit-picking on my part. Maurice Sendak is surely one of the finest artists to ever work in children's books, and this exhibition was a good introduction to his work, particularly for children.
For people interested, particularly if you don't already know Maurice Sendak's work, please check out the
Media Resources
page.
Also highly recommended are Selma Lane's
The Art of Maurice Sendak
and Tony Kushner's more recent
The Art of Maurice Sendak: 1980 to Present
.
Labels: Maurice Sendak
Comments:
I'm sorry it wasn't what you had hoped it would be. For lay people like myself, or for children, it sounds fascinating. Well, fascinating to me and fun for kids. *G*
I don't know if you can copyright a style but there are books in bookshops that shamelessly ape Sendak's style AND subject matter.
PS We have
In Grandpa's House
, a great book.
kitchen hand
I loved those books as a child! I'm totally going to have to get them for my kids now...
Ian (the other one)
Post a Comment