Friday, April 29, 2005
Are You Going to Buy That?
I just ducked over to
Are You Going to Buy That?
, a small exhibition of "works by selected zine, comic book and graphic novel artists" - it was definitely worth getting to! If anyone is thinking of going, the Gallery is at the back of Hawthorn Town Hall, with entry from the carpark, and not that easy to find.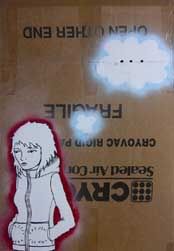 The artists are:
David Blumenstein (mispelt as "Blumestein), complete with the animated Herman the Legal Labrador!
Sarah Howell (from "Vacant Lot, etc.") original artwork and very engaging
Alice Ames (fascinating installation type art - kind of comics in 3D, in terms of it being text and objects)
Dean Rankine (lots of tiny framed pics that will have you musing - what is "E" for, etc.?)
Edward Burger (full on comics artist - why haven't I seen his stuff before?)
Alice Mrongovius (some gorgeous original work, including the picture here - Elipse - spray paint, markers on corrugated cardboard, 56cm x 78cm)
Leigh Rigozzi (always makes me laugh out loud - hmm, that's a good place to find a piano)
Gary Lau (needs no introduction, but I finally got "Knight Edge" #2, instead of having two copies of #3)
Kirsty Altis (am I confusing her work with Alice Ames - probably!)
Daniel Reed (of The Crumpleton Experiments, here featuring some beautiful original drawings!)
Anthony Woodward (the printmeister himself! Big, little, experimental, all of it clever, exciting comics and art)
Paul White (ravens flying - contemplative, and good use of a photocopier)
Talitha Nonveiller (aka.. TalNON) (I wasn't expecting to see work of hers I haven't seen before! Very pleasantly surprised! Is "Delicacy" for "Escape" #2?)
Anonymous (haven't opened the paperbag yet... feel nervous about it)
Richard Warwick (another major comics artist I don't know!)
Many inaccurate observations above, I don't doubt. My only minor gripe is that I really wanted every exhibit to have something I could buy! I mean, given the title and all... If you're around, then check it out!
Comments:
Who was the artist that turned out to be "Anonymous"?
Just bought a few Aus. Comics for son's B'day. Trying to inspire the possible future comic artist. He's nine.(http://cheruboyanonymous.blogspot.com/)
Hi there, just stumbled across your blog. my name is kirsty, I exhibited a piece called Wrung at the a.y.g.t.b.t expo. yeh, it was kinda 3d, on a clothes rack...thanks for the rave review of the expo. the piece I had there was part one of a three piece thing (a suitcase and a ladder) so hopefully they'll end up in an expo somewhere else! feel free to email me kaltis@optusnet.com.au or check out my zine brandnewarmour at Sticky. cheers.
Thanks, Kirsty, I spent quite a while poring over the clothes rack in particular - fascinating installation art that also had a pleasing comics narrative sensibility to it, at least the way I read it - an enjoyable insight into an artist's life/mind.
Post a Comment