Thursday, June 28, 2007
Recent bird album covers 2
There are lots of new animal and bird album cover designs around, so I thought I'd kick off this latest run with just birds. A couple are truly iconic images focused on the bird as an image, there are a few hummingbirds and owls, and quite a few with birds more as an incidental, sometimes two-dimensional part of the design.
The first two have a similar feel, in spite of very different intent and music styles. The
Clubbers Guide
is a favourite - bird as a simple, imaginative device engaged with the concept - as is Andrew Bird's snooty budgie, which captures the witty spark of his music well. As for that Wilco cover, that is pure genius, capturing a mood perfectly in the most stylish way possible - a picture that says so much, both in content and design, and a very powerful image. Those owls on The Terrible Twos are way cute - let me know if you're recording a CD and want a cartoony design along those lines (or even a naturalistic cover illustration) - I'd like to do one.
(Click on pic for closeup - list and short reviews below)
Top row
Clubbers Guide to 2007 - Mixed by Kid Kenobi & Goodwill - 38 track latest definitive guide to upcoming dance music
Various Artists - The Coodabeen Champions Present Sunday Nightingales - ABC Radio collection of great female vox, from Laura Nyro and Lulu to Beth Orton and Joan as Policewoman
The Finches - Human Like a House - Acoustic Folk pop from female fronted San Francisco duo and friends
Wilco - Sky Blue Sky - Seventh album sees Tweedy, Stirratt and Co. re-embrace roots influences with a classic rock feel
2nd row
Claude Vonstroke - Beware of the Bird - Innovative underground dance music, first album on this label
Andrew Bird - Armchair Apocrypha - Third solo album and best yet, which is some achievement (they're all great!)
The Hard-Ons - Most People Are A Waste of Time - Return of iconic Sydney pop punk three piece
Uncle Ho - Roads to Roma - Broken beats and dub backdrops mash up electic mix of sounds from across the world
3rd row
City City City - The Perimeter Motor Show - mostly instrumental with diverse instruments and a jammy, occasionally dissonant sound. I like this a lot!
Dan Kelly and the Alpha Males - Drowning in the Fountain of Youth - first full-length from local songwriter, inventive musically and lyrically
The Terrible Twos - If You Ever See an Owl - Something different from Matt Pryor (of Get Up Kids) and the New Amsterdams, a cool, hook-laden children's album!
Mr. Knightowl - Classics for the Calles - Hardcore gangtsa rap
4th row
Rebel Meets Rebel - David Allan Coe (with Pantera) - Witty country metal featuring Dimebag Darrell's guitar
Belles Will Ring - Mood Patterns - Chiming and melodic debut recorded in our own Blue Mountains by a rising star band!
Einstellung - Wings of Desire - Birmingham four piece debut with hypnotic post-industrial sonic architecture
Miguel Miggs - Those Things - All star lineup fronting more organic dance-music approach by deep house DJ producer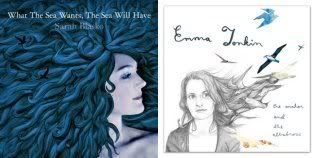 I thought about starting a separate category for female artists with birds in their hair, as demonstrated here by Sarah Blasko on
What the Sea Wants the Sea Will Have
and Emma Tonkin on
The Anchor and the Albatross
. These capture the vibe and themes of the respective albums perfectly, intelligently incorporating images of the artists themselves and the other elements (I hate albums that just have a boring photo of the artist on the cover).
Last but not least there is
Hatebeak
, the death metal band from Maryland, whose lead singer is an African grey parrot named Waldo (smart species, the African grey). The cover itself is evidently a tribute to Judas Priest. Waldo records separatelyfrom the band, due to a sensitivity to loud noises, so don't expect a tour. With the CD singles sold out, an album is in the works.
Labels: Animal album covers, Bird album covers, Girls with birds in their hair album covers
Comments:
Those are great album covers, the women's hair being my favorite.
I agree with you, too, about how boring album covers are when it's just a photograph of the group. I prefer a little more creativity!
Post a Comment