Wednesday, March 30, 2005
Over the Reef
Here's the first page of my five page Pirate mini-epic for the
Pirates
anthology, which has a deadline of tomorrow. Comments welcomed!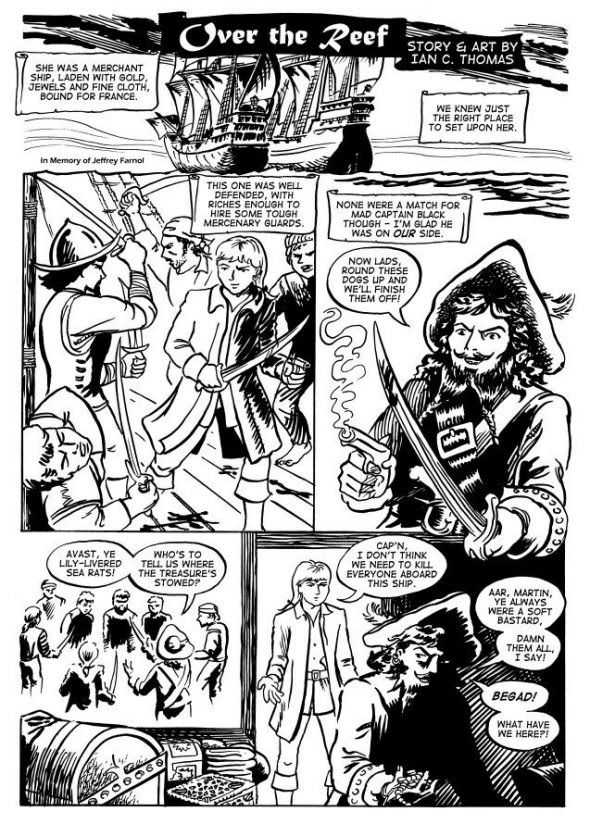 I finished this off over Easter, and also got a final draft for the script of
Moth & Tanuki
#4 done. There was a bit of editing on that M&T, which ended up with me adding 2 pages, so it'll be an 8 pager. Now I'm just waiting on that Bristol board in the mail to get started, but in the meantime I'm working on two other projects that I'm trying to get going.
Paul Hester
I was greatly saddened to hear of the death over Easter of Paul Hester, Crowded House drummer, singer, songwriter, TV presenter and comedian. I first saw him drumming on the final Split Enz show, when Neil Finn announced that he and Paul would be working together on whatever his next project would be (initially The Mullanes, then later CH). I really enjoyed all his work, particularly his show,
Hessie's Shed
, on the ABC a few years ago and seeing him on a Wiggles cooking segment on kids TV one-time. The circumstances of his death are particularly grim, and I'm really sorry he lost his battle with depression - a great loss.
Frenz.com - Split Enz, Crowded House, etc.
Labels: Comic anthologies, Pirates