Monday, December 19, 2005
Operation Funnybone released!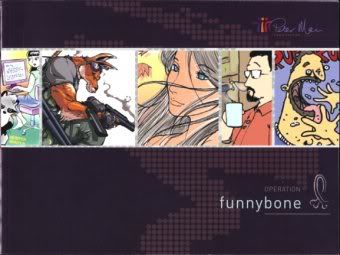 Operation Funnybone
is out!
It's available (even as we speak) from:
(more shops soon)
This incredible anthology is in support of a great cause -
The Peter MacCallum Cancer Centre
- so please consider grabbing copies of
Operation Funnybone
as gifts, among your last minute Christmas shopping!
This brilliant, beautiful book is perfectly bound and presented in a classy, coffee-table book format. It captures the essence of where Australian comics artists are right now, across the whole range of styles and approaches. I've found myself reading it almost constantly since I landed my copy.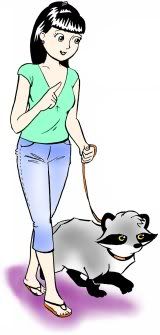 There's a
huge
amount of comics in there, along with detailed interviews with Australian comics creators. With so much reading it could be possible to lose sight of just how much comics work is included in this expansive book - there are lots of substantial stories, short pieces, strips, standalone art pieces - a bit of everything.
The written introductions by editor Glen Shearer and Holly Shorland convey a perfect sense of what this book and project are all about. Sadly, one of my favourite writers, Pamela Bone, wrote a moving final column in
The Age
today, as she is retiring due to terminal cancer, and she made some similar observations about attitudes and experiences to both Holly's
Forward
and her comic in this book,
Drip, Drip, Drip
. I think Holly's story is central to the heart of this project, and is a good place to begin reading.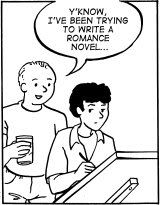 A special bonus for me is that so many favourite pieces that I haven't been able to own in print before - such as 24 hour webcomics and stories printed overseas - are in this book! In addition, most of the material here is altogether new. Australian comics are all about diversity and this is the best showcase of local comics artists I have ever seen - a tribute to the vision and persistence of Glen Shearer, who put it together.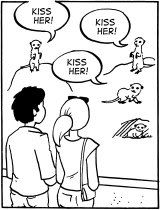 Different artists have chosen to contribute a variety of work. I went for a scattershot approach - a couple of pages of re-edited
Riffin' to Oblivion
, a page of
Moth & Tanuki
, along with some short pieces and a bunch of the
Joytown
comic strip I've had for a while - the pictures here are snipped from various of those.
The interviews give a lot of insight into the Australian comics scene, the motivations and frustrations of the artists, and the joy they find in creating their work. There's lots to laugh at, plenty to think about, and loads to keep coming back to read.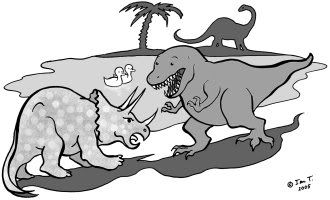 Contributors:
Aaron O'Donnell
Adrian Ceroni
Alex Major
Alice Mrongrovius
Amanda Jane Penrose
Andie Tong
Anthony Woodward
Arran McKenna
Avi Bernshaw
Ben Constantine
Bernard Caleo
Bernard Nagle
Brendan Boyd
Brendan Tolley
Brendon Kirk
Brian Jordan & Darren Jordan
Chris Lassig
Colin Wells & Tony Newton
Daniel Cox
Daniel Reed
Daniel VanderWerff & Daniel Quinney
Darren Close
Darren Moore
Dave Hodson
David Blumenstein
David Follett
David Kerr
David Li
Dean Humphries
Dean Rankine
Dillon Naylor
Doug Holgate
Gary Lau
Gary Wong
Gavin Thomson
Glenn Smith
Hayden Fryer
Henry Popienia
Holly Shorland
Ian C. Thomas
Jase Harper
Jason Badower
Jason Chatfield
Jason Frazer
Jo Waite
Jules Faber
Justin Tan
Kenneth Chan
Kirrilly Schell
Lee Hislop & Robert Forrest
Leigh Rigozzi
Lindsay Arnold
Maggie McFee
Mandy Ord
Marc Schmidt
Maria Francisca
Matt Bayliss
Matthew Huynh
Michael Li
Mikal Fikaris
Mike Delight
Nic Drury
Nicki Greenberg
Owen Heitman
Owen Nichols & Tanya Nichols
Peta Hewitt
Peter Jetnikoff
Rachel Wasilejko
Rob O'Connor
Robert De Graauw
Robert Forrest
Shane Foley
Stewart Mckenny & Annette Kwok
Sud Abbas
Talitha Nonveiller
Tee Hamilton
Tonia Walden
Troy Kealley
Trudy Cooper
Wen Chee
Zeldz Magnoonis
Zeno Sworder
Operation Funnybone
deserves a place in any artbook collection, graphic novel collection or library, and remember the proceeds are toward a great cause!
Labels: Operation Funnybone
Comments:
Thanks Ian, you just gave me a couple of gift ideas. I'm off to Readers Feast.
joe bloggs
(sorry, it's not allowing me to post as joe bloggs)
Thanks, Joe! Reader's Feast have it at the special price of $29.95! Your purchase of this book will be greatly appreciated... and not just by me - Merry Christmas!
I'll post about another book (Tango #6) tonight...
Post a Comment