Friday, November 26, 2010
Inscribe
The third issue of
Inscribe
newspaper has been out for about a month now. It's a wonderful initiative, a community journal for writers and artists primarily located in the City of Darebin, in collaboration with the
Publishing Lab
at Northern Metropolitan Institute of TAFE. Print copies can be picked up at Northcote Town Hall and a variety of other locations in the area, or you can view or download it
here
.
In addition to a rich variety of prose, poetry and reviews by emerging (and some established) writers, there are evocative spot illustrations, and also - in this issue - an emphasis on comics! Included are comic related articles and works from artists including Nicki Greenberg, Mandy Ord, Michael Camilleri, Queenie Tan and Austina Wan (in collaboration with Chris Beach, Simon Sez and Mojo the Clown - and yes, the latter is real: I've met him!), plus a review by Dillon Naylor.
Comic highlights for me are the eye-catching centre pages, which are in a classic style, Tan's short strips and Mandy Ord's full back page comic rumination on literature.
I have a couple of small pieces in there which may have some familiarity to regular readers of this Blog - yes, you and you - "Fresh" on page 15 and "Creatively Frustrated" on page 22 are reworkings of pieces that have appeared here in some form. Given that I was a bit disappointed by the space allocated to the second piece - one of those personal musings that I think is likely to be misunderstood anyway - I thought I'd post it here.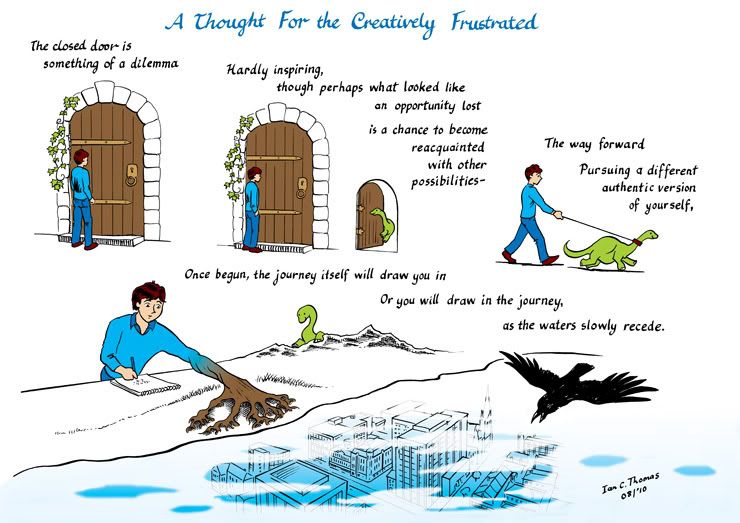 Labels: Australian comics, Miscellaneous comic pieces