Sunday, January 01, 2006
Flavour for Illustration Friday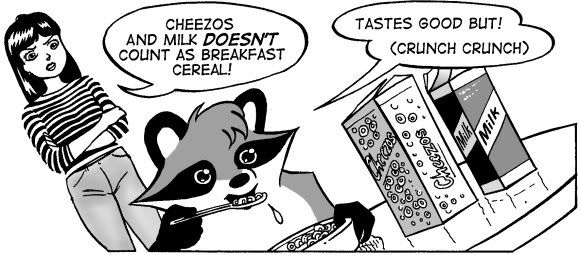 This frame from an upcoming comic story, featuring
Moth & Tanuki
, seemed somehow appropriate for this week's
Illustration Friday
topic.
We're currently trying out some ideas and recipes from
The CSIRO Total Wellbeing Diet
and this isn't in there :). Apparently, everyone else is also trying this diet right now, as the row for Tandoori paste in the Supermarket was completely empty.
This topic didn't do much for me. Overall, I'm pretty fed up with the glut of affluent cooking shows and books, and the amount of time, money and attention devoted to attempting to cook and eat every living thing on the planet (think Tim Flannery's
The Future Eaters
, which is pretty relevant right now).
Healthy eating is definitely of interest, though I'm not making any resolutions about being strict about it.
Labels: Illustration Friday
Comments:
Thanks, all!
Anthony, the stuff in
Operation Funnybone
was a scattershot assortment of different work, some previously published (and re-edited or coloured) and some done especially. I don't have any immediate plans to publish anything myself.
Isay, thanks! I kind of agree - my personal favourite version of the
Moth & Tanuki
artwork is in pure black and white with dotty screentones (not even proper greys), like an old newspaper comic.
Manboy, Moth & Tanuki are planning to get into plenty of trouble in future adventures - lots of it should be funny, but some of it will get a little serious as well...
Post a Comment