Wednesday, June 22, 2005
Black and White for Illustration Friday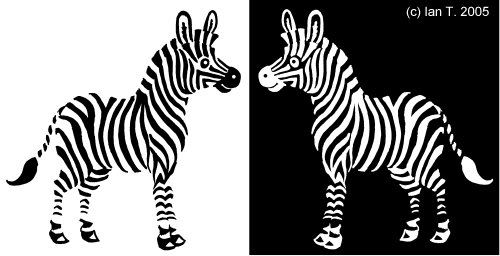 A black horse with white stripes or a white horse with black stripes? Actually, neither, just the plain old, fancy-looking zebra! This is my picture for
Illustration Friday
this week, on the theme of "Black and White."
I started with a sketch in pen and brush, scanned as a pure 2 bit black and white TIFF, then cleaned up a little. Of course, I had to eventually scale back to a greyscale JPEG to put it online, but I think it's still as "pure" as I can make it. In the sketch I had outlines around the legs, but when I viewed the reversed image I knew these had to go, as they contradicted the logic of the design.
All in all it's not to far from my stripey fish for "Aquatic." Lately, I have a bit of a fascination with shapes and objects expressed as linear forms. Sometime soon I hope to put up a page from "Moth & Tanuki" #4, which really shows it in action!
Update: Been there, done that? Check out the
T-shirt
!
Labels: Illustration Friday, Sketchbook
Comments:
Those zebras are just too darn cute. They look like they might be from parallel universes :o) I love your take on the theme and your execution!
Post a Comment