Saturday, July 08, 2006
The Ink #3!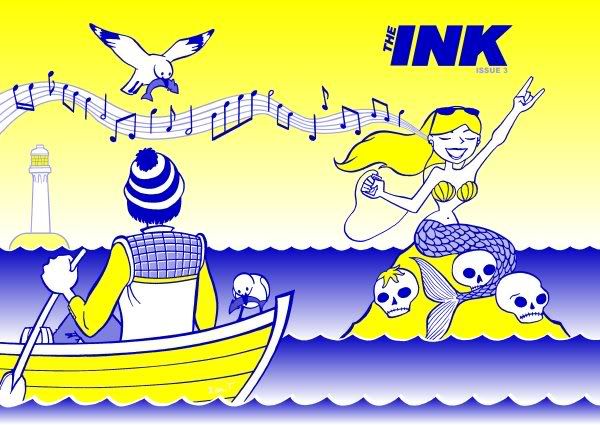 Here it finally is,
The Ink
#3, with my wraparound cover. Here's the original picture, and below you'll find a photo of the comic itself taken by Tonia Walden, who copublished this issue with me, and who has been absolutely invaluable in seeing it through to fruition (I totally recommend any of her other books as well).
Aaron Burgess of
Comics Australia
originally compiled the majority of the work in
The Ink
#3, along with the two previous issues, published under his FlatFly Media imprint, hence there are many conclusions of ongoing tales in here, as well as many fine standalone pieces.
Thanks to all who contributed!
Contents:
Cover
- Ian C. Thomas
Front inner cover
- Doug Holgate
Basic Wage Kids
- Owen Heitmann
Riffin' to Oblivion, Part 3
- Ian C. Thomas
Sasha's Song, Part 2
- Troy Kealley
The Klaatu Controversy
- Jeremy Macpherson
Hollow in "Birdie"
- Aaron Burgess
B-Boy + Winston the Duck
- Edward J. Grug III
The People You Meet
- David Bird and Michael Nason
Isolation Room, Part 3
- Bobby Nenadovic
Songs for the Deaf and Stupid Present
- Chris Wahl
What's in a Name
- Tonia Walden
Song So Uncertain
- Liz Argall and Steve Martinez (/Fred Smith)
Resume
- David Witteveen (/Dorothy Parker)
What's New Pussycat?
- Talitha Nonveiller
Missed Dreams
- Hayden Fryer
Musical Giant
- Michael Connolly
Citys Siren
- Scott Johnson
Pied Piper
- Gavin Thomson
Biffo
(back inner cover) - Jase Harper
Contributor copies soon (if we have your address, otherwise, please email me).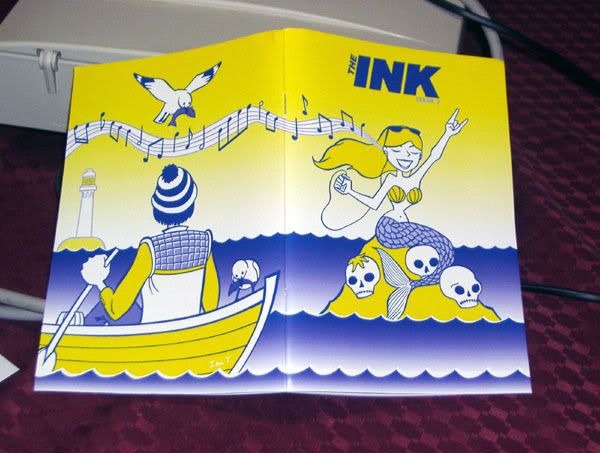 Labels: Australian comics, Comic anthologies, Riffin' to Oblivion, The Ink
Comments:
Hi Ian
Congratulations to you and Tonia. Was a nice surprise to see it up and on the Pulp Faction boards. Hopefully, you have a nice sense of achievement now that its finished.
A solid list of contributors; I think as strong as the first issue. I felt that, with a few exceptions, issue 2 was weaker than issue 1.
Your work seems to be everywhere at the moment; R & R Fairies, OzTaku, and now The Ink.
Well done.
Cheers
David Bird
Post a Comment