Sunday, April 16, 2006
Spotted for Illustration Friday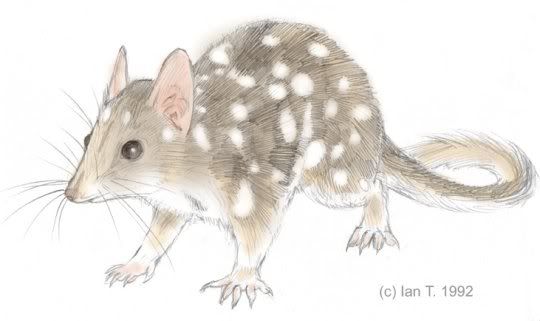 The first thing that sprang to mind for this topic for me was this beautiful animal, one of my favourites. Then I remembered I'd done a pencil sketch a long time ago, searched around and found it, and added a little bit of colour in Photoshop. The size and resolution of the pic here aren't as good as I'd like - it was done as a study in a particular pencil texture technique I was trying at the time, as this isn't clear enough to show it properly - I might replace the pic with a larger file later in the week.
This is an Eastern quoll, an animal that used to be common across eastern Australia - even to being found in the suburbs of Melbourne into the sixties, but now entirely extinct on the mainland and found only in Tasmania. If foxes become established in Tasmania, that could be the final blow. The related Western (chuditch) and Northern quolls are similarly embattled, as well as their bigger relative, the tiger quoll. Around the time I drew this I was fortunate enough to visit where Northern quolls were being studied at Monash University - they're now in decline largely due to the spread of the cane toad.
Labels: Australian wildlife, Illustration Friday, quolls
Comments:
This guy's great! It's too bad you've lost them on the mainland. Damn those Cane Toads! Maybe you should raise some and release them back into the wild around Melbourne? Repopulate! Nice illo, it's cool that you're sharing animals I otherwise would have never known about...not even from my local zoo here in Columbus.
Post a Comment