Wednesday, November 09, 2005
Pirates anthology comic!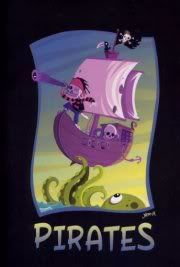 Aaar, here be
Pirates
, a thick (no, not like a plank!) mini comic, edited by Tonia Walden and with an excellent cover by Jase Harper.
This marvel can be bought for a mere $6 from the good people at
Phase Two Comics
. Inside you'll find space pirates, video pirates, fancy dress party pirates, dog pirates, disabled pirates, (non G-rated) teddy bear pirates and plenty of the more traditional sort.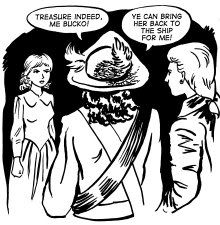 Anyone who has been around here for a while will have already seen the first full page of my story,
Over the Reef
(that page is in the Archives here), so I'm not planning to feature anymore full pages... here's a couple of snippets though.

My inspiration was drawn from a couple of classic old Jeffrey Farnol novels - adventurous swashbuckling pirate yarns - thus the dedication on the first page. The style is a kind of romantic/realistic stark black and white look. I really like pure black and white. It's related to the way I drew
Riffin' to Oblivion
and it was fun and a bit of relief to be drawing in a completely non-Manga style again.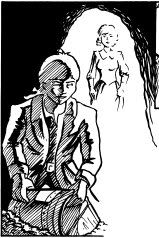 On the anthology itself: it's kind of a followup to Tonia's earlier two anthologies,
Once Upon a Time
and
Eat Comics
(which featured
The Bunyip and the Whistling Kettle
by me).
Most of the pieces in
Pirates
are short, humorous pastiches, with a few longer more dramatic stories thrown in for good measure (mine is a five pager). I think it's a balanced anthology with plenty of substance: a lot of different styles and, most pleasing of all, some unfamiliar Australian artists who don't usually appear in these books!
Labels: Australian comics, Comic anthologies, Miscellaneous comic pieces, Pirates
Comments:
HardieHarr ... the Pirates are on their way to my place. Thought I was going to grow up as a pirate once! Will keep careful eye (only have one of them) on the teddy bears ...
Post a Comment