Saturday, November 19, 2005
Snack Bar Comic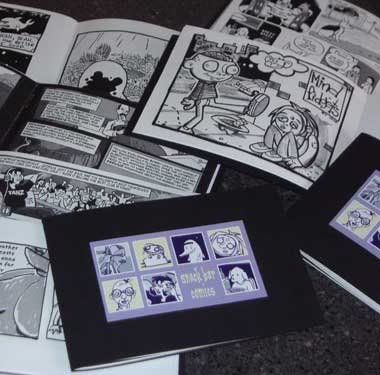 An ingenious new concept, the
Snack Bar Art Space
, is a new project using vending machines to distribute artworks in the inner city of Melbourne.
Tonia Walden has put together a nifty little minicomic, featuring a bunch of great local comics artists. Some of the work has appeared previously in other publications, but my piece(s) in there haven't - it's a great collection in any case. The artworks in the Snack Bar project (including the comic) will be contained in small labelled cardboard boxes, available at $2 each.
The first vending machine will be located in the
Brunswick Coin Laundry
at 326 Victoria Street, Brunswick. If you're over that way, please grab a copy before they're all gone! The launch is on Wednesday night, 6-8pm (I won't be there though).
The main piece I have in there is a one pager in landscape format,
Dogs That Know When Their Owners Are Coming Home
. Yep, that's right, it's a sendup of Rupert Sheldrake's goodhearted but pseudoscientific book of the same name, and also C. M. Coolidge's (now classic) cheesy dog pictures from the 1920s.
Labels: Australian comics, Miscellaneous comic pieces
Comments:
Thanks, Joe and Alina!
Joe, I wasn't familiar with David Sipress (by name), but he has a classic
The New Yorker
look to his cartoons! There's a huge new book coming out showcasing the cartoons and comics from
The New Yorker
with a complete CD of all the cartoons included as well!
I tend to think of dog cartoons really getting started with James Thurber, though it's definitely not the case (and the C. M. Coolidge paintings date from a similar era in any case).
Joe, if you're a dog owner, you might enjoy the late Eric Gurney's
How to Live With a Neurotic Dog
- text and cartoons (from a while ago).
My own dog characters date back to the very first comics I ever drew (about Grade 5), with my best known one being the nameless terrier from
Busker Jim
, a strip that ran in a City newspaper for a few years in the early '80s.
Post a Comment