Tuesday, August 15, 2006
Play for Illustration Friday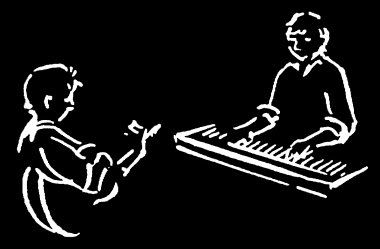 For the
Illustration Friday
theme of "Play" music sprang to mind. These are a couple of pictures from my mini-epic trilogy,
Riffin' to Oblivion
, which appeared in the music comic anthology,
The Ink
. There were a lot of panels from this series that would have been appropriate but these two sum up a couple of major aspects - the creative and the commercial.
The style is rough and sketchy (the whole series was drawn pretty fast). I thought I'd better post something a bit like a proper illustration first, so from the sublime to the ridiculous...
Note: The Song,
Howzat
, by Australian band, Sherbert, may not be known outside Australia and the U.K.
"If music be the food of love, then play on..." (Shakespeare - Twelfth Night)
Labels: Illustration Friday
Comments:
i agree with mr. dailey. all the previous entries are great. nice info about your cafepress products!
i hope to be back soon!
Post a Comment