Friday, April 21, 2006
Operation Funnybone launch!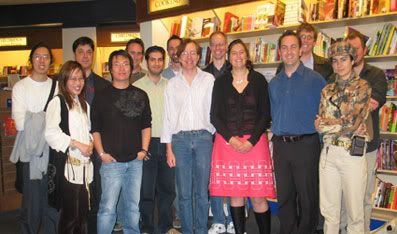 The official launch for
Operation Funnybone
yesterday morning at Reader's Feast bookshop was very enjoyable! Catching up with so many local comics artists in person was lots of fun, and most I met for the first time, even though many have been regular correspondents. The speeches covered the essence of the project - how it came into being, and the nature of the vital work of
The Peter MacCallum Cancer Centre
.
Pictured here, L to R, you'll find: Kenny Chan, Wen Huang, Peter Jetnikoff, Gary Lau, Daniel Reed, Sud Abbas, Dean Rankine, me, Robert De Graaw, Holly Shorland, Glen Shearer, Chris Lassig, Talitha Nonveiller and Darren Close.
Alas, among random signings I managed to sign Daniel Reed's copy in the wrong place, and missed out on getting Peter to sign mine. Further reports can be found on
Dean
and
Wen's
LiveJournals.
Labels: Operation Funnybone
Comments:
Thanks for letting me know about this, tho unfortunately was away from net access.
Gonna try to make melbournecomics.com a wee bit shinier soon.
Greg.
Post a Comment