Monday, December 21, 2009
Tango 9: Love & War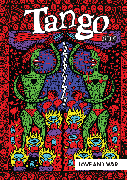 The theme for
Tango9: Love & War
certainly appears to have inspired, bringing out the best in Australia's comic writers and artists.
At 352 pages, this is the biggest
Tango
issue yet, and it has continued to become more book-like, now sporting a full colour cover and even bearing an ISBN (I wish more Australian anthologies would to this!).
My own 3 page piece, set (without specific mention) during the American Civil War, was difficult. This was a hard story to conceive, but even harder to work on. It was pleasing to hear Bernard mention in his speech at the double launch that other contributors were moved by the works they created, often struggling with deeply felt material (and it shows).
The story I chose to draw, "Nowhere to Hide," deals with the role of animals in war, surely a thankless task for even the most devoted among them, but often just resulting in extreme waste of life (but then war has always been about that). It also deals with the attitudes different people have to war itself.
For a while now, horses have been on my mind, so this story just told itself without much effort. While I researched it pretty thoroughly, I removed most specific references to keep the feel more general. I also (with Bernard's editorial encouragement) removed some wording, and probably should have removed more :).
While I don't like to single out favourites, some that struck me and have stayed with me (difficult among so much material) were Owen Heitmann's nuanced "Letter from home," Chris Downes' apparent true story "A Simple Act of Preservation" and Jessica and Grug's beautifully realised cartoon fantasy "Ellewin & Arlbard." I found myself returning repeatedly to the book, to discover new gems and revisit favourites.
It's a mighty book and highly recommended (for mature readers), both as a snapshot of Australian comics right now, but also as a classic anthology
Labels: Australian comics, Comic anthologies, Tango