Saturday, August 05, 2006
Meus Officium Est Abyssus - Wot?
This piece is an extract from a longer satirical piece that came about quickly. I drew it at the time this story came up and offered it to a humour magazine (who liked the character, but were unwilling to publish a long comic piece).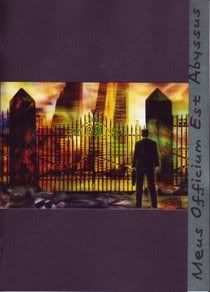 I'd also originally envisaged it as related (if indirectly) to Tonia's "Angels & Demons" anthology,
Meus Officium Est Abyssus
. This nicely presented, hand-bound anthology - which features many of Tonia's witty, well drawn and observed strips about the home-life of Maxwell the Demon - now has a second issue out. A black-and-white version of the
Wot Collection
one pager is in there. It may have dated a little, but I think the premise still works.
Meus
sold well at
Doujicon
last weekend - in fact, #2 sold out! It should be available at
Phase Two Comics
soon. For an idea of what it's like, check out the online version of
Meus #1
.
Labels: Miscellaneous comic pieces