Wednesday, June 01, 2005
Envy for Illustration Friday
Well, I finished last month with an
Illustration Friday
, so I thought it'd be nice to start this month with one directly after. This week the theme is
Envy
. Discussion below...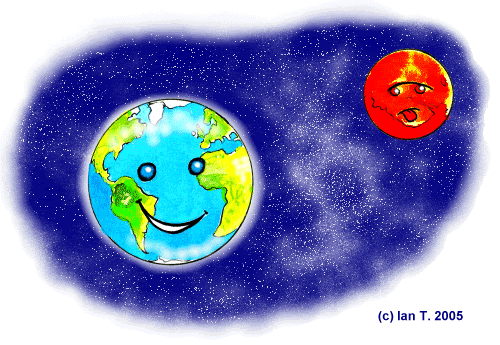 The Earth and Mars were done in ink and watercolour on paper, then scanned and adjusted, after which I added space, stars, clouds and touching up on the computer. This is more a cartoon than anything else. I wanted to do the theme of Envy without going over into Jealousy or other emotional territories, but I don't know if I succeeded entirely. Actually, "Thirsty" might work just as well as a theme :).
Comments:
Yep, Mars would be envious of Earth's water! Like your milky way. Thanks for your comment, but it dissapeared ... Blogger? Also .. clicking from IFs page takes you where no one can comment on your image, just the jpeg page.
Post a Comment