Wednesday, April 05, 2006
Spring for Illustration Friday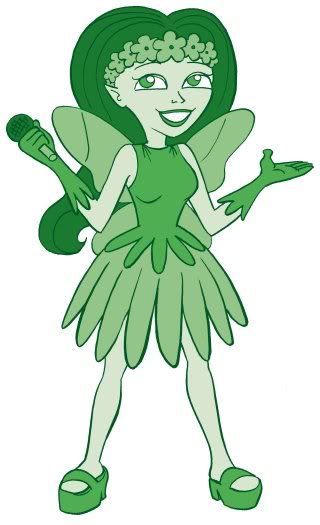 As soon as I told Jill that
Illustration Friday
this week was "Spring," she suggested this.
So here she is - Spring, the lead singer of
Dillon Naylor
's comic-strip band,
The Rock 'N' Roll Fairies
. This is one of a bunch of pictures I did when Dillon first suggested that I take over drawing the serial in
Total Girl
magazine.
I've said it before - they're wonderful character designs and a lot of fun to draw. There
are
slight differences in the way Dillon and I draw them - my Fairies tend to be slightly plumper - but our styles have proved pretty compatible overall.
I also had a painting that I did years ago in mind for this topic, but it's not
that
relevant and trying to fit it on my scanner and piece it together is just too hard right now, so maybe it'll fit some later IF topic.
Labels: Illustration Friday, Rock 'N' Roll Fairies
Comments:
She's fresh little sprite! She's got such a wide open face with such pretty eyes and smile. I like the platform shoes too:> That must be a fun serial to illustrate...perhaps you'll share some of the other characters with us?
Post a Comment