Friday, November 24, 2006
OzTaku 1.2 local edition!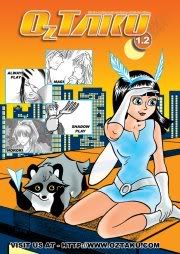 The local edition! Now available in the comics and magazines section of most Australian
Borders
bookshops and many other fine book and comic stores -
fairly complete list
!
Recent back issues appear to have sold out with
OzTaku
themselves. For new readers, I recommend trying to find the new series so far, #1.0 - #1.2. Copies of #1.1 are still available at
Phase Two Comics
.
Labels: Moth and Tanuki, OzTAKU
Comments:
Thanks, Isay!
TJ, yes indeed, that's my
Moth & Tanuki
on the cover, and they're in a 6 page (black-and-white) story inside.
Post a Comment