Sunday, May 08, 2005
Colonel Pewter
Something I've been meaning to do for a while was to put up a page about Arthur Horner's marvellous, but sadly rather forgotten, comic strip, Colonel Pewter. While I was off I had a chance to finally collect some information and put a Colonel Pewter page together: this post is just an extract from there.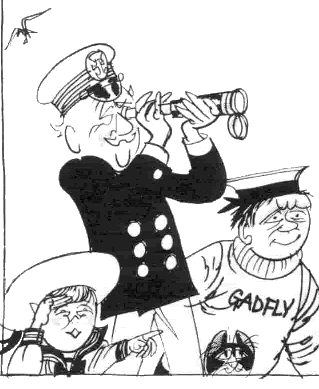 When I was growing up, I remember my father talking about a strip that he'd enjoyed some years ago in The Age newspaper, Colonel Pewter. He talked about various of the characters, including Glub, Colonel Pewter's Neanderthal butler, who Pewter dug out of his grounds where he'd been quick-frozen in Upper Palaeolithic times, and Pewter's great-nephew Martin.
A year or two later, The Age started reprinting the Colonel Pewter series where Glub runs in the Olympic Games, I think to coincide with the Moscow Olympic Games in 1980. Not only that, but Arthur Horner, the mysterious man behind this fantastic strip, suddenly re-emerged with the satirical Uriel Report, about an angel observing modern events, and many additional political cartoons.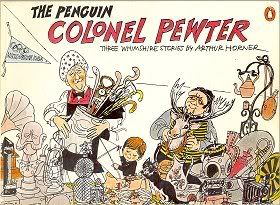 There have been three compilations of Colonel Pewter stories and they're a good starting point for anyone interested in finding out more, though they don't begin to cover these myriad extraordinary adventures. When I first started reading Colonel Pewter, it seemed to me these tales - and in some ways, his character - were linked to Lord Dunsany's eccentric (also sadly forgotten) short story character, Jorkens - always able to spin stories that began in the commonplace and went somewhere else altogether. In a sense, I feel that Daniel Reed's current Australian comic, The Crumpleton Experiments continues this tradition - albeit in a much darker form - with Professor Crumpleton being a British eccentric with much in common with both Pewter and Jorkens.
As wild adventure yarns, they're also akin to Carl Barks' masterful, consistently amazing and engaging Donald Duck/Uncle Scrooge stories, or Herge's Tintin (though the latter is certainly far more grounded in reality). Like these artists, Horner had a seemingly limitless imagination and amazing dexterity of vision and technique in the comics medium.
The most marvellous aspect of the stories for me - apart from the fact that the material was perfect for comic strip presentation - was the way it managed to present stories that were at once continuing adventure strips and also funny on a daily basis. The stories themselves were centred always around well-rendered characters, who were believable, however bizarre and wild the adventures became. Of course, some of the attitudes (as with some Barks material) reflect the times, but they still hold up remarkably well. The Penguin collection is an ideal place to start.
I'd be interested in hearing from Colonel Pewter fans, so please feel free to email me, sign my Guestbook or add Comments here.
Labels: Colonel Pewter
Comments:
Thanks, Joe, I'm very pleased to hear someone remembers Colonel Pewter. I've been working through some of the older series - all very enjoyable reading - and I might add a few odds and ends to the page later.
Incredibly,
Bristow
is still going and still as relevant to dull office life as ever!
Your mention of
In and Out of Society
had me reaching for my copy of John Ryan's
Panel by Panel: an Illustrated History of Australian Comics
and, sure enough, it's in there, with the first strip from 1933! The drawing is fairly simple, but it's still an excellent strip. That line to caption instead of word balloons is still used by a lot of strips, including
Doonesbury
. I couldn't find any of these strips online anywhere, but there's a substantial tribute to the author, W.E. Pigeon at: http://www.users.bigpond.com/peter_pidgeon/wep.htm
Post a Comment