Tuesday, June 26, 2007
George Haddon's Victoria Sketchbook
For a few years now I've been reviewing Australian comics, graphic novels and books of cartoons for
Inkspot
, the magazine of the Australian Cartoonists' Association. In #52, the latest issue, (also available
online
), I review Sarah Ellerton's fine manga-influenced fantasy saga
Inverloch
, along with
George Haddon's Victoria Sketchbook
and, because Haddon was such an influence on me as a kid, I thought I'd mention the latter here.
George Haddon's Victoria sketchbook
by George Haddon; edited by John Hall.
RACV Sales & Marketing, Noble Park North, Vic., 2006. ISBN: 0646464760
This huge book is a journey through my home state of Victoria, featuring many of my favourite places - an excellent reminder of all that's here, as well as a beautiful artbook in its own right.
George Haddon's ink and watercolour centrefolds have been a feature of
Royalauto
(the members' magazine for the Royal Automobile Association of Victoria) for many years now, with this series centring most of all on his artwork. The high quality reproductions of his artwork in
Victoria Sketchbook
positively glow. Reproduced at A3 on high quality paper, Haddon's pen and brush illustrations evince the tangible atmosphere of a place and time - the people, the buildings, the scenery, the activity. Haddon has a long history of illustrating location sketchbooks, so is the perfect artist for this material.
For people who know Victoria, among the places featured in
Victoria Sketchbook
are everything from the aquatic delights of Anglesea surf, Rosebud beaches, Murray riverboats, the bays of Lakes Entrance and Port Campbell; the historic townships of Beechworth, Clunes and Swan Hill; inner-city vistas of Carlton, St. Kilda and Williamstown; the heights of The Dandenongs, Mount Macedon and Mount Hotham; and the wilds of Marysville, The Grampians and Phillip Island.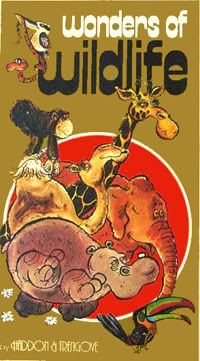 My personal favourite will always be Haddon & Trengove's
Wonders of Wildlife
, which appeared many years ago in
The Herald
. I treasure a book collecting those classic strips (I used to cut them out, but have long since lost my collection, and not all of them are in the book). It's wonderful to have a new Haddon book to add to my collection!

George Haddon's Victoria Sketchbook is available from RACV Sales and Marketing - tel: (03)9790 2821 or send a cheque to: RoyalAuto Sketchbook Offer, RACV, 550 Princes Hwy, Noble Park North VIC 3174. Price: $34.90 (RACV members), $39.90 (non-members)
George Haddon's page at EntertainOz
Labels: Australian cartoonists, George Haddon