Thursday, September 01, 2005
Dreams for Illustration Friday
The reasons why my entry for
Illustration Friday
this week took so long to post are:
- the topic (again) didn't inspire me, as it's just too broad and esoteric
- my dayjob is full on at present and keeping up with my normal drawing workload as well is difficult (for news on my latest project please see next post below)
- I really don't like this picture and wasn't going to post it
Actually, Jill and J didn't like this one either, and doing a substandard picture
is
a rotten thing to do to one of the finest books ever written. In my defence, I used time where I was too exhausted to draw anything else to do this, so it was drawn hastily under bad light late at night. I've also tried to experiment with working in a style other than my usual, because for me that's a big part of what IF is about.
By the way, a theme I've suggested is "Alice." :). I'd really hoped to get away from Tenniel's or Disney's Alices, but I failed there as well (exacerbated by colouring her dress in a bluetone). What I do like is the white rabbit's front paw, which is drawn like a real rabbit's. Oh well - against my better judgment here's my picture for "Dreams." It's black ink line and coloured pencil.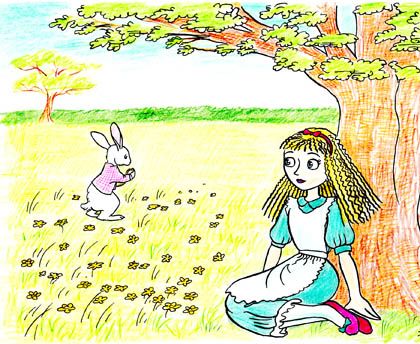 Labels: Alice, Illustration Friday
Comments:
Even a "bad' illo is good if it's one of yours! This has the look of a sketch that provides a view of how you want to develop the look of your characters. There's definitely something "twitchy" about the rabbit's ears...they look alert and show that he's very preoccupied. Alice has that wide-eyed incredulous look, and I really like the wavy hair. I do find some of these topics kind of greeting card-ish, but maybe it's the broadness that is the biggest challenge. Have you ever submitted a topic? I have twice, but no go. I'd like to illustrate "attitude" or "serendipity."
Anyway, thanks for your wonderful feedback. I always appreciate your specific comments, and I would always welcome any suggestions as well. I respect the work you do very much. I'm so busy at work, so I don't have time to look at your new posts...I want to "make the rounds" of my favorite blogs over the weekend.
Take care :>
Carla
Post a Comment