Monday, February 09, 2009
Vale Marysville
Marysville is gone. I can't believe it! I was worrying about the potential for fire at my own, bush-surrounded house on the day we hit our highest recorded temperature 46.4 Celsius (117 Fahrenheit), and didn't hear about this disaster until Sunday.

Marysville was one of my favourite places on earth, but Saturday's fires have almost entirely destroyed it. I've spent so much time there, including nearly every weekend at one time in my life.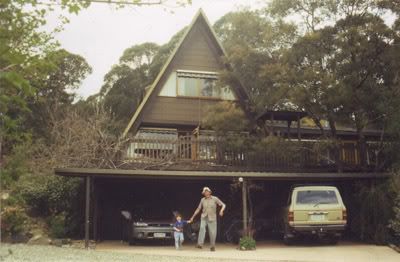 On Christmas Day, we all went to Jill's mother's house in Marysville for the family gathering and I'm so glad we did.

Jill's Mum was away on holiday this last weekend and rang on Saturday evening to see if Marysville was in danger. I didn't think so at that stage, but then the wind - and everything - changed.
Below is an etching from 1870 that shows the main street and it captures Marysville's gentle, small town nature. I can't think of a way to pay sufficient tribute to this wonderful place, but the following two galleries convey a sense of its recent beauty.


Marysville by Scott Davis (thanks to Scott for first picture here)
After the fire - this last link is to an ABC aerial survey of damage (caution - may be upsetting): Bushfire devastates Marysville

Labels: Bushfires, Global warming, Marysville
Comments:
Thanks, Aravis, she's holding up pretty well considering. Given how upset the rest of the family is, I can't imagine what it must be like for them :(.
Post a Comment