Wednesday, November 16, 2005
Dromkeen - Peg Maltby, Patricia Mullins, etc.
A week ago we drove up to pick J up from a School camp and took the opportunity to visit the wonderful
Dromkeen Museum
collection of children's book illustration at Riddell's Creek. I'd been planning to do this for a while, partly as it was an opportunity to try to further research a particular Australian children's writer/illustrator who I am planning to try to write an article about. Funny, Riddells Creek was where
Reverie
was edited, but I hadn't been back there since then.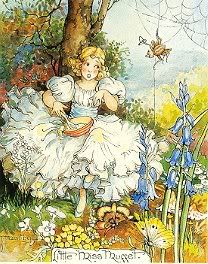 We were very fortunate on the day, and got to have a good look at a lot of the beautiful original children's book illustrations housed in the Dromkeen archives. This particular picture is by late local Peg Maltby, one of Australia's famous fairy painters from the classic local period early last century, and this original is still stunningly bright and clean: it looked as though it were painted yesterday! Jill has a very beaten up old copy of the original
Peg's Fairy Book
from 1946, and Maltby was commissioned to again paint these illustrations in the late '70s for a new edition (I recently managed to find a copy to give Jill for Christmas... ssssh!)
I know I said this last week (with regard to Ron Embleton), but even the finest of reproductions fail to capture the clarity of detail and brightness of colour of original artwork by the best illustrators. Viewed side-by-side, as at Dromkeen, the array of different illustration techniques was dazzling, particularly across a wide range of time periods. There was one recent book where the pictures were made of sown felt.
Jeannie Baker
's extraordinary three dimensional collage/dioramas are always worth a detailed look, and I enjoyed seeing some original line and wash work by the delightful Bob Graham.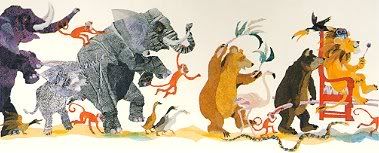 Taking an entirely original approach to creating your children's book visions is a good way to go and more likely at attract the interest of editors.
Patricia Mullins
produces her work out of cut and torn tissue paper, sometimes with painted textures, and all glued down very carefully. Again, the colours on the original are gorgeous (this one is also quite large). I enquired about whether she had problems with lightfastness, and whether the tissue paper colours would fade quickly, but apparently Mullins uses imported Japanese tissue papers that use high quality pigments.
As for the author/illustrator I'm researching... a cursory search by the very helpful staff member who showed us around revealed two of her books that I hadn't seen before - fantastic!
Labels: Children's books, Dromkeen, Patricia Mullins, Peg Maltby
Comments:
Thanks, Anonymous! What's wonderful is the diversity of visual "voices" shown with just these three artists. One of the things I dislike about computer-based art (in addition to the failure to produce beautiful, complete originals), is that it tends to drive most artists in similar directions.
Which version of
Peg's Fairy Book
do you own?
Post a Comment