Sunday, November 26, 2006
Mail Art Portfolio Swap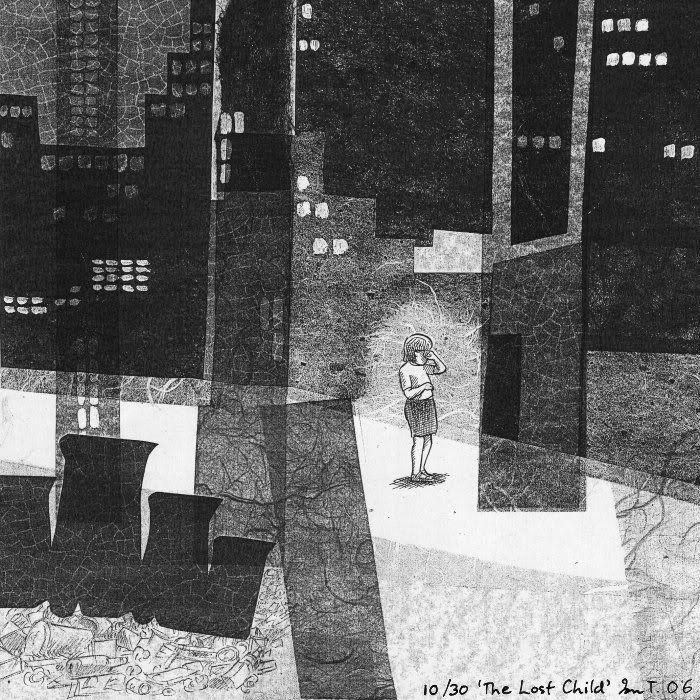 This picture was produced as a limited print for a small artist swap project run earlier this year by
Anthony Woodward
. My copy arrived in the mail a few days ago and looking through the pictures the different artists produced is fascinating, both in content and technique.
In the end, eight artists contributed - Anthony's descriptions follow:
David Collier (red and black print of drawing done on a navy ship)
Tim Danko (on brown folder card with stamps and Mickey mouse like character)
David Dellafiora (geometric shapes and figure)
Mandy Ord (something stuck in Mandy's teeth)
Jac (AKA Jaclyn Poole) (boarded up safe house)
Ian C. Thomas (city print with overlapping shapes)
Sam Twyford-Moore (snowflakes with hand tinting)
Anthony Woodward (strange no headed lorn creature)
The limited edition is numbered up to 30.
Some day, I might scan the original parts from which this print was produced - it was a time-consuming process to try to achieve the densities of light and dark that I wanted, with a fairly unpredictable process. I made the original pictures using overlays of tissue paper, other textured papers and materials, paint, pencil sketching and an ink line drawing.
To construct the prints from the component originals, the paper was overphotocopied a number of times through the machine, resized onto good quality paper, and each time the images registered a little differently. I stuck to pure black-and-white, so the prints don't have any dottiness to them and do, indeed, look like some sort of lithograph. This scan (using greyscale) doesn't really show what the actual print is like - the black lines and gritty textures are all sharp.
Of course this picture is in tribute to another, as is often the case in Australian art...
An enjoyable and worthwhile print project from Anthony - thanks! Any link updates to home pages or blogs of the contributing artists appreciated.
Labels: Australian comics, Mail Art Portfolio Swap, Sketchbook
Comments:
Really a very good project, First of all, you all have succeeded with the content. The shapes and the pencil sketching is impressive. It does look like a lithograph.
I am sorry, I have pressed the wrong key and I had some problems with my computer, hence the deleting of my first comment.
Post a Comment