Friday, August 26, 2005
Off with the Fairies - the Rock 'N' Roll Fairies, that is!
Yesterday I picked up the latest issue of
Total Girl
magazine, and there's the first episode of a new story for Dillon's
Rock 'N' Roll Fairies
... drawn by me!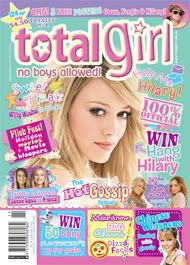 I remember we first became aware of the Rock 'N' Roll Fairies about three years ago, when J was reading one of the first episodes to L.
A year or so later I interviewed the Fairies' creator,
Dillon Naylor
for
OzComics Magazine
and we found we had a lot in common, being fans of many of the same obscure artists and sharing a similar creative outlook.
When Dillon offered me the Rock 'N' Roll Fairies to draw I was delighted! They're wonderful, well-designed characters, present great active girl role models and I love band stories and miniature worlds!
So with this new Fairies adventure, I've started doing the artwork, though it's really a team effort - Dillon is still writing, and the colours are being added by Tamara Wighton. Grab a copy of the September issue at your newsagent (or Supermarket) now!
More information on the Rock 'N' Roll Fairies can be found at:
Total Girl Rock 'N' Roll Fairies page
, and you can check out their continuing new adventures every month in
Total Girl
magazine itself.
Labels: Rock 'N' Roll Fairies
Comments:
Your Rock 'N' Roll Fairies look great - bright and imaginative! They remind me of the beings that lived on our school oval after reading The Magic Faraway Tree; but midriffs weren't imagined yet :)
Thanks, Anonymous! I can't take credit for the character designs though - they're Dillon's. The Rock 'N' Roll Fairies are brilliant character designs and a lot of fun to draw - they're really contemporary and a bit traditional all at once.
Congrats!! This is so very very cool!! Rock N Roll Fairies sounds absolutely delightful. Wow, this is just so neat!
Post a Comment