Thursday, February 09, 2006
Rock 'N' Roll Fairies, Part 7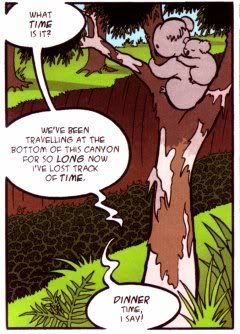 The February issue of
Total Girl
magazine is out today, featuring Part 7 of this adventure of Dillon's
Rock 'N' Roll Fairies
(script-Dillon, art-me, colours-Tamara).
This is a random selection of three panels, showing different aspects of the story. I'm really happy that we're including some clearly Australian elements now - readers can tend to assume that comics they read in local publications are from overseas, so it's nice to remind them occasionally that this isn't necessarily the case. Also, the koalas help to reaffirm the larger scale of the world around the Fairies, as they're so often working on a very small scale (and lately even below ground level). That's important at this stage, as what we're currently working on is at a very small scale indeed!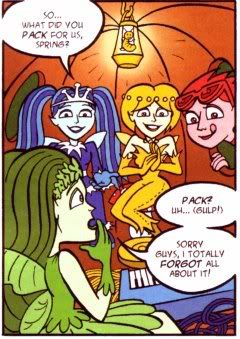 This particular episode is very character (rather than plot) based, in contrast to what comes before and after - the Fairies have such good interplay, they can be put in a wagon to talk and it's still a fun episode!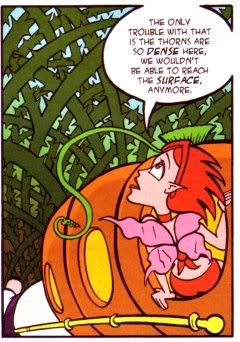 I was particularly happy with how the linework came out in this panel. Something I obsess a lot about is line densities - thick to thin, contrasts, curves, etc. - and the thorns, pumpkin coach and figures in this panel give a good indication of what I try to achieve. I thought about scanning in the black and white version, but I think it's clear enough :).
Go get the latest
TG
from your (Australian) newsagent or Supermarket now!
Labels: Rock 'N' Roll Fairies
Comments:
Great comics! Very cool. Thanks for visiting my blog... to answer your question, this is a tourist who was sitting nearby. (My icon is more of a self-portrait of me at my desk) She had no idea I was drawing her, as they usually don't. We get a lot of tourists from New York City, as it is less than an hour away, and they are their own breed- very loud! This lady wasn't though, she was just enjoying her book.
Love your rock-n-roll fairies.
Thanks for the great comment. I have seen the other comments at other blogs too! I am sure we all appreciate the nice words.
Take care,
Lyn &
The Whippy Curly Tails in the Toasty South
=^..^=
Post a Comment