Thursday, May 04, 2006
Rock 'N' Roll Fairies, Part 10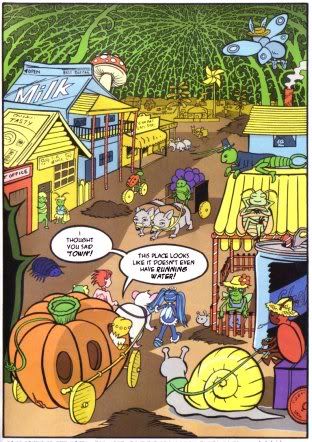 The May issue of
Total Girl
magazine is out now.
Here's the second page of this episode of
Dillon
's
Rock 'N' Roll Fairies
, drawn by me, with colours by Tamara. I'm really pleased with how this page came out, as getting the balance in the details right was tricky (I had old milk cartons and stuff lying around the floor while I was drawing it).
This was a lot of fun to draw, combining my interests in bugs and old country towns. Some of my favourite details are in the far background.
Below is a scan of the original black-and-white page, sans colouring and lettering, so you might want to colour it yourself (or even caption it a bit differently).
Labels: Rock 'N' Roll Fairies
Comments:
The colors remind me of the old Asterix cartoons, though of course the subject doesn't. As for bugs and small towns, they do seem to go together. *G*
*eyeing the spider in the corner*
Post a Comment