Saturday, June 03, 2006
Rock 'N' Roll Fairies, Part 11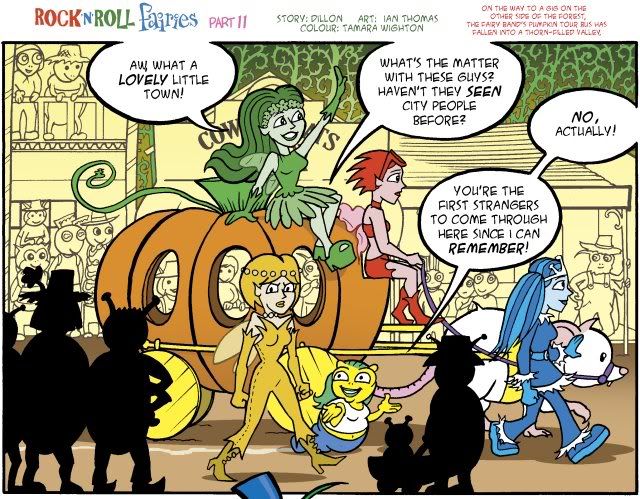 Here's the first panel from the latest episode of Dillon's
Rock 'N' Roll Fairies
, drawn by me, and appearing in the June 2006 issue of
Total Girl
magazine. I thought I'd put up the pencils - first rough, then slightly tidied up - to give a glimpse at my messy drawing methods. A lot of the final drawing comes through in that first rushed frenzy of sketching, so it's important not to lose that energy.
I showed the first rough to Dillon, who suggested Spring posing on the top - a perfect touch. The final linework was drawn on two separate sheets of paper - one for the foreground, and another for the buildings and townsfolk in the background - these later being combined in Photoshop.
I've left one mistake for you nitpickers to spot :).
For a special RNRFs treat, check out an all-new Dillon Naylor
Rock 'N' Roll Fairies poster
.
I'm not drawing much at present, for a number of reasons (not least of all a bad cold).
Labels: Rock 'N' Roll Fairies
Comments:
Heh. I just surfed in on a "Next Blog" link and look who I find - another Ian Thomas (although Thomas is my middle name) who is also a writer!
Small world, huh?
Stop by and say hello!
Ian
wow this is a great illustration Ian. I feel so happy looking at it. I like this kind of atmosphere and I imagine I am one of those staring at them. you really have made them the center of attraction and yet the other characters were made visible by using the black shadow and different linework on the other side of the street.
i would like to take this opportunity also to thank you for your support and kinds words. i am not back regularly and hoping i can soon!
Post a Comment