Sunday, July 02, 2006
Rock 'N' Roll Fairies, Part 12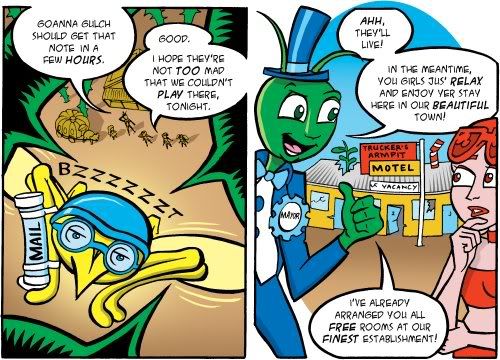 The July issue of
Total Girl
magazine is out now. With Dillon's new
Rock 'N' Roll Fairies
adventure now up to the 12th episode, I've been drawing the strip for almost a year (there was an extra episode at Christmas), and it's as much fun as ever. Here's a couple of panels showing some odd insecty characters, but for some totally strange ones, you'll have to buy the issue!
Labels: Rock 'N' Roll Fairies
Comments:
That's right it's total girl. I bought the Disney one the other day for my daughter and wondered why the was no comic, duh! It's funny, I noticed that Dillion is one of the other illustrators working on a series of books that I'm working on at the moment, I wonder how he's doing with it? I'm currently behind due to low energy from the mysterious illness I have.
Post a Comment