Monday, July 09, 2007
Moth & Tanuki in Mania 75
This month there's 9 pages of my comics in the current issue of
Mania
, #75, August 2007 - the regulars,
Moth & Tanuki
, in a 4 pager, plus another 5 page comic! More on that in the next post. If you like my comics and haven't bought
Mania
before, this one's a good place to start!
This episode of "Moth & Tanuki" kicks off with a familiar setting - Mothy's father's Invention Room - though evidently some time has passed between this and the last time it appeared (actually in
OzTaku
#1.2, which has also recently come out).
Yep, here comes that kid again - some people never learn! I'm trying to work him in every third or fourth episode as he brings something different to the strip. He's in the one I'm currently working on, which is different to anything I've ever drawn before and he even gets a name!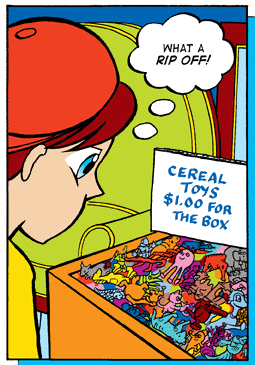 Here's a quick throwaway panel from this same story, which I'll elaborate on in another post. I imagine a lot of people (in Australia) fondly remember cereal toys.
But wait, there's more...
Labels: Cereal toys, Mania, Mania August 2007, Moth and Tanuki
Comments:
That'd be awesome to come across a bunch of cereal toys for $1!! My favourite I remember were the flinstones ones that cam with flistones cereal, put out by greens somewhere around 93-94. I only have barney...
Post a Comment