Sunday, September 23, 2007
Quokkas, The Nutcracker, Colonel Pewter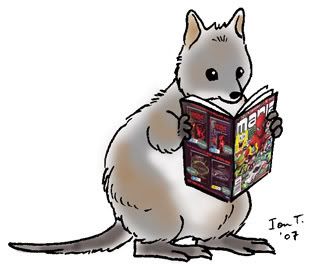 Last week J was in Perth playing with the school orchestra (touring around other schools over there). On Monday they visited
Rottnest Island
, home of quokkas, and
Mania
was even on sale there - cool!
On Saturday night, we saw the Australian Ballet production of
The Nutcracker
which was done along traditional lines, amazingly staged and choreographed - I highly recommend this! The rats in particular were wonderfully done, and the shrinking down scene had to be seen to be believed (complete with lifesize soldiers in a box). J and L were transfixed, having never seen a ballet performance before (I figure this one is a good place to start). The second part of
The Nutcracker
tends to drift a bit for me as, in spite of the timeless music, it loses the narrative direction of the first half. This production maintained an ideal pace throughout. As we were first row in the balcony we had an exceptional view of the orchestra as well, but I was frustrated by not being able to see the (clearly audible) harpist :).
Also on Saturday I went to the Post Office and picked up a box of old
Colonel Pewter
strips. They came in a biscuit/cake tin as the owner had collected them, 19 mostly complete stories cut from newspapers long ago, fairly yellowed with age and bulldog clipped together (some of the clips have rusted). I'll enjoy going through these!
Labels: Colonel Pewter, Quokkas, Sketchbook, The Nutcracker
Comments:
Quokkas are unbelievably cute - not that I've ever actually seen one myself! I was in Western Australian once as a kid, and I remember seeing numbats at the Zoo there, but not quokkas. Australia's full of cute animals on the verge of extinction - the offshore islands are important refuges for a lot of them.
Post a Comment