Wednesday, October 31, 2007
Penultimate Moth & Tanuki in Mania 79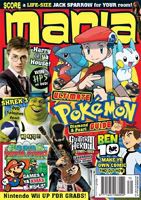 It's
Mania
time again with issue #79 December 2007, out now, featuring the penultimate episode of
Moth & Tanuki
.
Mania
gets a bit previous this time of year, with the November issue off sale before the end of October to make way for this December issue. However, that means that this isn't
quite
the end for Moth & Tanuki. The next issue, the Summer Special, will feature the last episode.
This one stars Tanuki in a weird, non-crime fighting vignette about bizarre worship. That begins to cover another aspect of Tanuki that I've been gradually developing (also in
OzTaku
). He both is and isn't what he appears to be. Pastel colours this time, after last month's bright primaries.
I'm really happy with these last few stories - the M&T world has expanded considerably and the gags are much tighter. Had the series continued I would have brought back one or two earlier characters, and I do think the next four were the best scripts I've ever written. The next (and final) one will star Mothy - it's about her turn!
Labels: Mania, Moth and Tanuki
Comments:
wow! fantastic blog, I like very much, i dont know that would do without comics... it really fun read comics.
Congratulations for the blog
Greetings from Barcelona
Post a Comment