Friday, November 21, 2008
Girls With Birds in Their Hair album covers
The reason I haven't done a roundup of
animal
or
bird
album covers for a while is that, in the last few years, this concept has exploded to an uncontainable extent. I considered trying to pick favourites - still extremely difficult - or grouping them in categories, ie: "Horses," "Monkeys" or even "Jellyfish." Still basically impossible though! And no, I don't think they're doing it so I'll blog about it here :).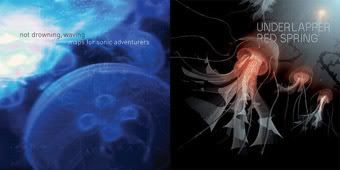 With everyone from Nick Cave (Grinderman) to Mercury Rev to Enya featuring animals on their covers there is seemingly no restriction on genre either, though it's interesting to note where the zeigeist spontaneously occurs simultaneously.
The oddest subgenre of these (as previously noted in
another post
) is the
Girls with Birds in Their Hair
theme, evidently still a widespread hairdressing problem, with these being only three of the more aesthetically pleasing examples from the current crop. All fine albums from accomplished artists by the way, so you could do worse than collect on this basis :).
And yes, I owe lots of emails, sorry about that...
Labels: Animal album covers, Bird album covers, Girls with birds in their hair album covers
Comments:
Tony, speaking as a former bird owner, yep, that can be a danger, though some birds do have good manners!
There were quite a few near misses for this category - female artists who almost got birds in their hair - including Pink (but no-one wants to get offside of her, so I'll keep to the parameters).
Hi Ian! How lovely to see your comments on my post! I hope this new year will be outstanding for you... 2008 wasn't wonderful for so many people. I enjoyed this post...and I had to laugh about girls with birds in their hair. Funny how some motifs appear in flocks:)
Post a Comment