Friday, October 23, 2009
Oh Well in Fist Full of Comics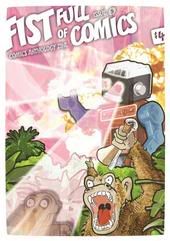 This one has been out for a little while - the latest
Fist Full of Comics
consists mainly of short one and two page stories - a strong issue with great variety.
My piece is a one pager that sprang into my head as I was finishing off a long, and somewhat depressing, piece for the next
Tango
(coming soon). Doing pieces that occur so spontaneously is about as fun as drawing comics can get.
The art was inspired by a '50s sensibility and '70s swapcard art, and also another major theme that's popular at the moment.
I worked with black and white and a single greytone, which is an approach I haven't used before. One of the best things about submitting to small press anthologies is that it gives you a chance to experiment and see the results in print - definitely something I'd encourage anyone to do, if you're thinking about starting off in comics!
Labels: Australian comics, Comic anthologies, Fist Full of Comics