Tuesday, January 16, 2007
Logging to Extinction 4
As previously mentioned here, Australian endangered species appear to present little obstacle to logging companies (see below for links). If they do, apparently even a Federal Court ruling might not present too much of a problem.
From yesterday's
The Age
newspaper
- Failing our Wildlife
:
"Australian governments are not working to save the country's natural heritage but to destroy it. The Minister for Forestry and Conservation, Eric Abetz, has flagged changing Australian law to let loggers cut the forest habitat of rare and endangered wildlife with impunity.


This follows last month's Federal Court ruling that logging in Tasmania's 10,000 hectare Wielangta Forest must stop because it is threatening three endangered species - the giant Tasmanian wedge-tailed eagle (wingspan 2.2 metres), the swift parrot (which flies across Bass Strait in three hours) and the ancient Wielangta stag beetle."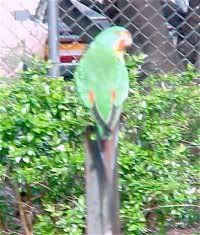 This picture is of one of a pair of swift (sometimes called Swift's) parrots that visited a pond in Wantirna, back in August 2002. It was apparently an annual stopover, but they haven't been back for a while.
The article also mentions the threats from logging to the giant freshwater crayfish (at over a metre long, the world's largest), the embattled Tasmanian devil and the spot-tailed quoll. Anyone who's ever been to a site after logging would be shocked by the result - after clear-felling, the areas are burned off and poisoned with 1080 (to kill animals that might eat new shoots) - the results are wholesale devastation.
While clear-felling tends to be indiscriminate in its destruction of wildlife, it's interesting that areas specific to endangered species have often been targeted for logging. Previous "Logging to Extinction" posts (concerning proposed and "accidental" logging of endangered species' habitat):
- Swift parrot pic by Andrew Barclay
- Wielganta stag beetle pic is from "At Risk" section of the
Wielganta Forest
site.
Labels: clear-felling, extinction, Logging, swift parrot, Wielganta