Thursday, September 18, 2008
Bird life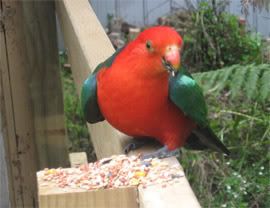 Having been off sick three days this week I fed the birds that arrived on our deck in the afternoon (I usually do this only early in the morning). I know some people think this is a bad idea, but I try to regulate it fairly carefully so they're not overly dependant, and try to only feed native birds, and with a variety of seed. There's at least one case - a cockatoo with a ring on his leg who initially arrived partially clipped - who wouldn't have survived without our help. He's still coming, often with lots of friends.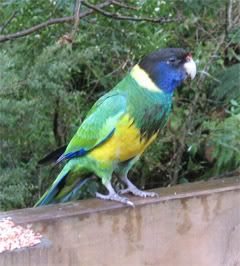 On Monday, a parrot I had never seen before appeared! J knew straight away that it was a "28 parrot," which was a name unfamiliar to me, even though my bird knowledge is very thorough. She was right, this guy is also called an "Australian ringneck" and is evidently an aviary escape. He was getting on well with the King parrots and showed up again this morning.
Parrots I see (or feed) on any given day at our place:
Crimson rosellas (every day)

Sulphur-crested cockatoos (most days)

King parrots (often)

Rainbow lorikeets (a couple, about once a week)

Galahs (about once a week)

Short-billed corellas (very occasionally, a desert bird moving range as a symptom of climate change - now displacing cockatoos in many places)

Eastern rosellas (very occasionally)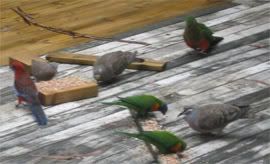 The other main seed-eating birds are red-browed finches, some bronzewings, the occasional grey currawong, blackbird, magpie or even raven, and a flock of turtle-doves, if I don't chase them off (which I always do, as they scare more easily than other birds).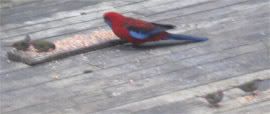 What I am sick of is neighbours' cats! We never used to have any around our area, which backs onto forest, but lately a couple of toms (evidently owned) have taken to hanging around our place in search of birds, possums and other wildlife. It's infuriating, as we're trying to maintain a place that's wildlife friendly!